Marty McFly wrote:
You didn't get the sense of brute force, did you? It switches SSAO to extreme quality for screenshot purposes, not for actual gaming. Afaik in Skyrim, also Reflections are cranked up.
That did not occur to me, but it makes sense. Thanks.
Also I would like to add that my grass problem is not specific to my lantern or the time of day as I previously thought; looks like this everywhere in Gransys for me.
Off/On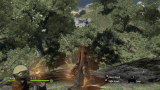 I was just in Witchwood, though, and it looked perfect.
I suppose I need some very specific SSAO settings?